Grapefruits may be the most under appreciated citrus.  The more popular lemon, lime, and orange get all the love, but the grapefruit has some incredible health benefits and tastes great too.
The Fruit- While not as sweet as an orange the fruit of the grapefruit is a great addition to many meals.  Eating ½ to 1 grapefruit before a meal can actually make you lose weight (they've done studies).   Don't add extra sugar because that will counteract many benefits.  Grapefruits pack tons of vitamins C, A, and Potassium as well as beneficial Dietary fiber.  Eating grapefruit can help you stay hydrated as they are full of water (almost as much as a watermelon).  They promote clear skin and can reduce your risk of cancer, asthma, high blood pressure, stroke, and more – To read all about why check out the article here.    http://www.medicalnewstoday.com/articles/280882.php
The Juice- While not offering as much fiber as eating the fruit.  Drinking grapefruit juice has many of the same benefits.  A glass of grapefruit juice contains: (source Wikipedia)
Nutrition Facts
Grapefruit juice, pink
Amount Per 1 fruit yields (196 g)
Calories 76
% Daily Value*
Total Fat 0.2 g
0%
Saturated fat 0 g
0%
Polyunsaturated fat 0 g
Monounsaturated fat 0 g
Cholesterol 0 mg
0%
Sodium 2 mg
0%
Potassium 318 mg
9%
Total Carbohydrate 18 g
6%
Protein 1 g
2%
| | | | |
| --- | --- | --- | --- |
| Vitamin A | 17% | Vitamin C | 124% |
| Calcium | 1% | Iron | 2% |
| Vitamin D | 0% | Vitamin B-6 | 5% |
| Vitamin B-12 | 0% | Magnesium | 6% |
*Percent Daily Values are based on a 2,000 calorie diet. Your daily values may be higher or lower depending on your calorie needs.
The Seeds-  Grapefruit Seed Extract is rich in Photochemicals, Nutrients, and Antioxidants.  The Seed extract can also fight candida overgrowth and a host of parasites and bacteria in the gut.  You can also give to animals as a dewormer.
The Oil –  With its bright cheery scent Grapefruit Oil is very uplifting.  Add it to a diffuser to chase the blues away.  A few drops can also be added to a 2:1 mixture of water and vinegar and used as an all-purpose cleaner.
Grapefruit Salad Recipe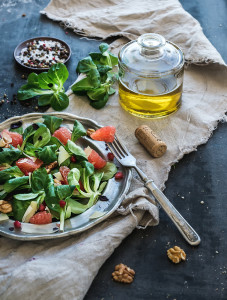 2- 4 cups Arugula or Spring Mix
1 Grapefruit peeled and sliced
½ C Walnuts crushed
2 Tomatoes Diced
Dressing:
2 tablespoons fresh Lemon Juice
1 Teaspoon Honey
¼ Cup Olive oil
Salt and Pepper to taste
Place Arugula/Spring Mix, grapefruit, walnuts, tomatoes into a large bowl.  Whisk the dressing items together, pour over the salad, and toss.  You can add a tin of canned sardines if you like, to add some protein and Omega 6 (plus they are perfect with the grapefruit).
*Check with your Doctor before eating grapefruit because it can interact with some prescription drugs.